Greetings fellow duelist.
This is Goodbye. The last of Konami World Championship.
Here's the story. We began with a group of devoted friends found through random online yugioh sites gathering for 1 community purpose. A leader was chosen. Though as of all leaders they started clueless, and lacks of leading. But all leaders has heart! Which is why no matter how non-skilled or not prepared a person may be, once they have heart and are chosen, not by themselves but by the people that looked up to them they changed, and they improvised.
With the years that the official Konami website have continuously stays with the yearly release games, this website have improved a lot to over 4 template changes, and new staffs communities. Keeping the same flow of online entertainment and walkthrough videos that helps others.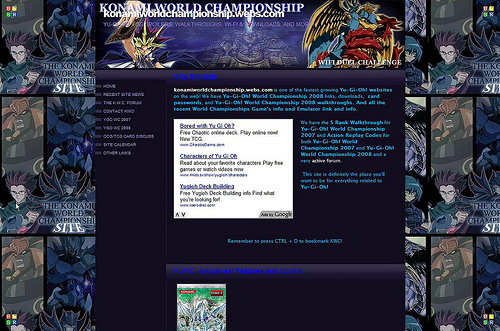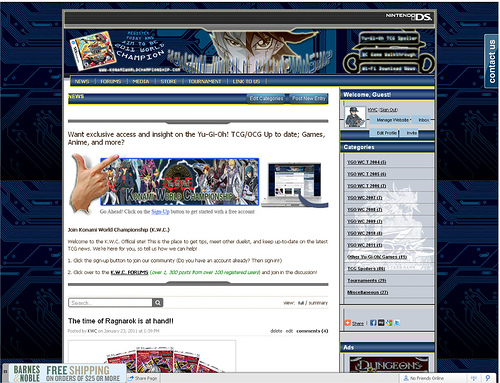 It was a best comfort zone for me. I barely noticed the difference as later on I was introduced into the work life. I made time for it. But with absences and constantly starting anew all the times, it's torturing. I would devote 4 - 6 months on working on the website and the next 6 months I would be absent. Then pick up again. My brother WIM had covered for me on my 1st absence because he understood the value of this community works. Then after him was Venus Rose. After her became RenRein. But imagined, without the main owner being there the team will not do well.
This was still nothing, but Konami decides to end the World Championship DS games on the 2011 yearly releases. This website wasn't a competition as some people would have thought, and you were more than lucky to be part of something that was real on idea, structures and activities. Many thanks for those that participates on our online tournaments and succeeds. One of which was the gathering champions throughout this whole website's yearly winners which makes our works true and unique.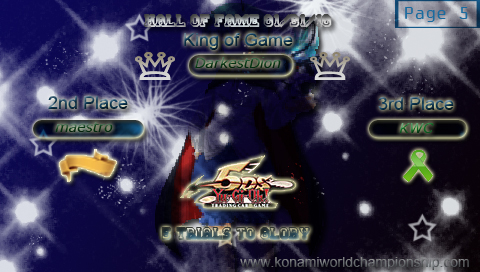 As the leader I want to give others a chance to pick up where we started but with a new chapter on their own. Instead of coming back again as I am old now and we literally spend 4 years of our lives dueling, those of us that started to be enthusiastic as we were when we were young now is your chance. Though we are not sure of possible World Championship games but for sure you have a start to do the next Yugioh 3DS game walkthough, and form your own community where ever that may be.
May the odds be forever in your favor,
David N.